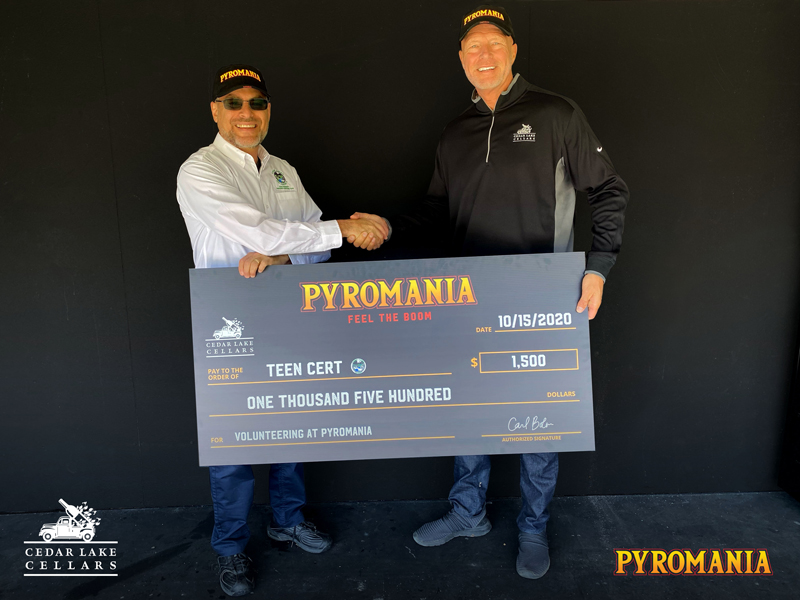 (November 2, 2020) Wright City, MO… Cedar Lake Cellars Winery in Wright City, MO, has donated $1,500 to the Mid America Teen Community Emergency Response Team (CERT). The health and safety of guests is always a top priority of Cedar Lake Cellars, and Mid America TEEN CERT members have volunteered for years at signature events to help ensure the wellness of winery visitors.
The Mid America Teen Community Emergency Response Team is a 501(c)(3) public charitable organization that has earned the distinction as the No. 1 Emergency Preparedness Youth Program in Missouri, and No. 1 Child and Youth Emergency Preparedness Program in America. The program began in 2003 and was officially established with FEMA in August of 2007, to train students who are at least 12 years and older, how to respond to any emergency situation effectively and efficiently.
"Our program has had the privilege of working with Carl and the team at Cedar Lake Cellars providing medical and other support since the early days of the Battlegrounds Mud Run and Summer Splash," said TEEN CERT Program Director Mark Rosenblum. "We now assist with other events hosted there such as Pyromania, which draws more than 10,000 people. Being asked to work with their team is like helping out good friends, and Mid America TEEN CERT will be there alongside Cedar Lake Cellars for their next 10 years."
The Mid America TEEN CERT program teaches an average of 7-8 classes and performs 10-12 philanthropic events per year. Some of their training topics include providing emergency medical aid, searching for and rescuing victims safely, assisting people with special and functional needs, preparing for acts of terrorism, and collecting disaster intelligence to support first responder efforts.
Cedar Lake Cellars Proprietor Carl Bolm believes in giving back to valuable community partners. "These young men and women provide an important service for many different organizations. The safety of our guests is always important, but more of a priority now than ever before. These volunteers are learning important skills, and many will go on to become the next generation of first responders and health care professionals. We're excited to provide this donation to help their organization with that important mission."
Opened in 2010, Cedar Lake Cellars has grown to become one of the most popular event venues in the Midwest. The winery hosts weddings, private events, corporate retreats, and a variety of signature events that attract thousands of visitors. Cedar Lake Cellars is always working to create memorable experiences that exceed expectations and inspire each guest to return and celebrate. For more information, please visit www.cedarlakecellars.com.