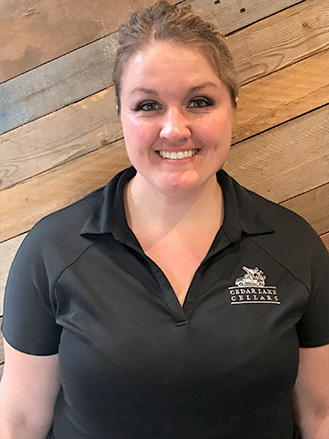 Rachael Warnick
Wine Tender
Hometown: Alpine, Utah
Joined the Cedar Lake Cellars team: December 2020
Why Rachael was selected as this month's "Employee of the Month": 
Rachael has gone above and beyond her role since coming on board with us here at Cedar Lake Cellars. She is always excited to take on new challenges and leaves no stone unturned when it comes to providing exceptional service. #WorldClassServiceExemplified.
Top three reasons why I love working at Cedar Lake Cellars:
Clyde, our resident male swan, and the rest of our swans.
Our wine.
My co-workers.
Favorite Cedar Lake Cellars' Food & Wine:
Sugarfire Nachos paired with Cedar Lake Cellar's '57 Chevy
Favorite Thing About Cedar Lake Cellars:
Our Swans! 
Most Impressive Hidden Talent:
Teamster- I have been on multiple cross country wagon trains.