Browse Our Upcoming Events
Select list, week, or month view below!
Please Note: Cedar Lake Cellars is a 21+ venue.

Valentine's Day Dinner Experience for Two
Recurring event
see all
February 11
@
5:00 pm
–
10:00 pm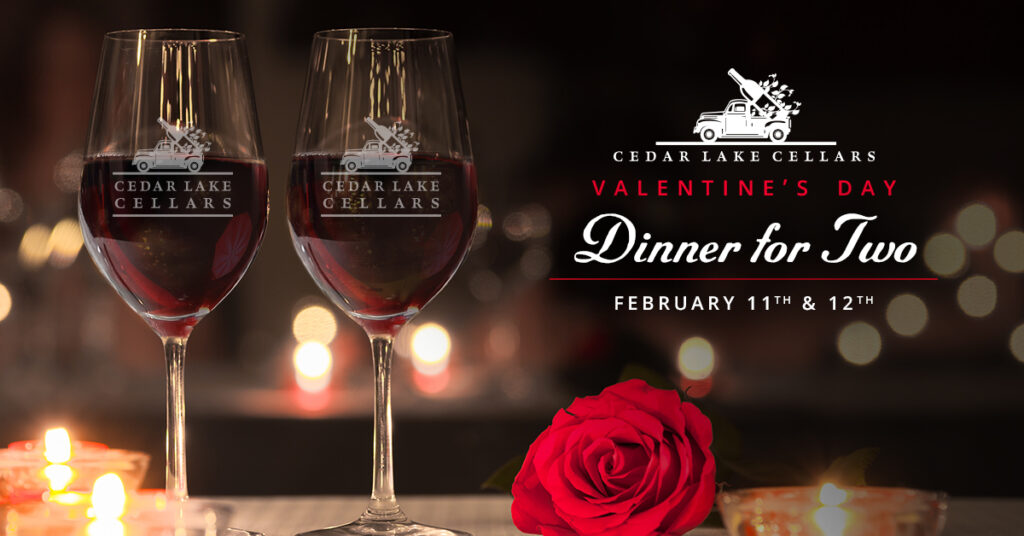 A Perfectly Romantic Evening
$200 PER COUPLE plus tax & gratuity
Make this Valentine's Day unforgettable and join us for a romantic dinner experience on Friday, February 11th or Saturday, February 12th. For $200 per couple (plus tax and gratuity) you'll enjoy a delicious four-course dinner for two, a bottle of Cedar Lake Cellars wine to share and live acoustic music. Reservations are required and space is limited — hurry and make yours today!
Seating Times
FRIDAY, 2/11
5:00 p.m. | 8:00 p.m.
SATURDAY, 2/12
5:00 p.m. | 8:00 p.m.
---
Live Music
FRIDAY, 2/11
Richie Kihlken
From 5:00 p.m. to 10:00 p.m.
SATURDAY, 2/12
Bryan Toben
From 5:00 p.m. to 10:00 p.m.
Wine Selection
— Choose a Bottle to Share —
DRY
Cabernet Sauvignon
Heavy black cherry and tannins radiate throughout our wine, which has a unique finish of cinnamon and spice.
Chardonnay
With notes of tropical fruits, peaches, and a hint of oak, our medium-bodied stainless steel selection is the perfect wine for any occasion.
Rosé
Our Rosé wine offers delicious aromas of red roses and ripe watermelon, leaving flavors of ripe peaches and crisp pears dancing on your palate.
SEMI-DRY
'57 Chevy
This red wine — a blend of Norton, Chambourcin, and St. Vincent – can be served either at cellar temperature (brings out the wine's drier varietal) or chilled (highlights residual sugar.)
SWEET
Fire Truck
A tantalizing sweet blend of raspberry and cherry aromas, this chilled sweet red dazzles the palate with rich layers of ripe fruit.
Moscato
Our Moscato has intoxicating aromas of perfumed peach blossom and fresh honeysuckle. Crisp acidity keeps the mouthfeel rich and balanced with lingering notes of rose petal on the finish.
The Dinner Menu
COURSE ONE
— To Share —
Cheese & Meat Tray

COURSE TWO
Choice Of The Following:
Mini Crab Cakes with Remoulade

Caesar Salad

French Onion Soup
COURSE THREE
Choice Of The Following:
Seared Beef Ribeye
Served with a side of asparagus and Hasselback potatoes
Tender Braised Chicken
Served in red wine with a side of carrots, pearl onions and cremini mushrooms
Shrimp Pasta
Served in a homemade vodka sauce
COURSE FOUR
Choice Of The Following:
Merlot Brownie a la Mode
Roasted Strawberries Over Honey Ricotta
Your safety is our priority – learn about the extra precautions we are taking during this time ›
Please Note: All guests must be at least 21 years of age.
Each reservation is for a two-hour time slot. There will not be regular dinner service in the winery on February 11th and 12th. All sales are final and non-refundable. Refunds will only be issued in the event that Cedar Lake Cellars is closed due to inclement weather. Gift certificates are not able to be redeemed on this item.
Related Events